Vegetarian-Vegan Restaurant &
Concept of Pure.Food
We are the First Vegetarian Hotel in the Dolomites. Our contemporary vegetarian cuisine focuses on organic products and plant-based food delivered from sustainable suppliers.
Pure.Food
concept

Respectfully transforming the products given by Nature, we create energy for your body and delicious taste for your palate.
We aspire to show you that the Art of Vegetarianism perfectly blends conscious food choices with holistic well-being through creativity, exquisiteness of fine flavours, and fun as well.
Green Chefs' Tandem
Our Green Chefs' Tandem Mauro & Grazia brings to life the most exciting dishes that awaken your imagination and take you to the sensational journey of our Vegetarian cuisine. "Our work aspires to communicate the beauty of the vegetarian haute cuisine in all its most intriguing nuances, balanced and never trivial textures and combinations".
Mauro Massei. Mauro has finished the classical hotel studies complimented by training in the Michelin's kitchens of Uliassi, Crippa, Baiocco, Biagiola, and Alija.
Grazia Bianchi. Grazia's professional experience has started in the kitchens of Restorante Reale and Spazio (by Chef Niko Romito) in Rome and Milan, where her passion for catering has crossed with vegan natural cuisine.
After a number of experiences in the plant-based kitchens between Macerata, South Tyrol and Tuscany (Lord Bio, La Vimea, I Pini), their work today expresses a great respect to the roots of the traditional cuisine and a genuine interest to the world of sourdough bakery and fermented products. Their visionary kitchen is able to satisfy all the senses and consciously nourish body and soul.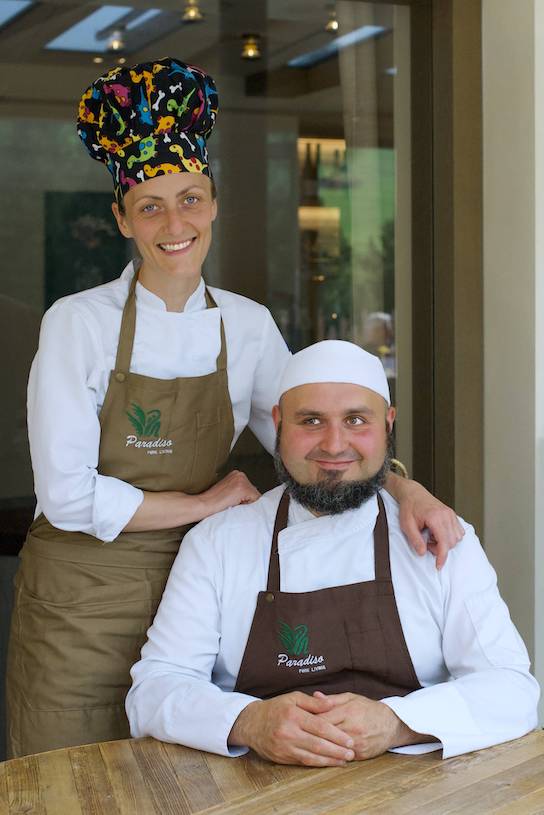 Our Menu
Our Contemporary Vegetarian Cuisine is presented by several menu options:

Vegetarian-Vegan Pizza
True Italian pizza made from a perfect combination of tradition & innovation.
Mauro & Grazia: "We feel a deep connection with the Italian cuisine being inspired by the contemporary touch of other gastronomic cultures. We aim to create an amazing taste through the mastery of the most accurate techniques and the deep knowledge of the raw materials, transforming them into pure energy and pure pleasure. We pursue to nurture our guests to taste first with the palate and then with the mind. We offer a culinary experience focusing on the carefully selected ingredients and the rediscovery of their pure essence".
An error occurred
The system can only accept 2 orders within 30 minutes. You can place your next order in 30 minutes
Thank you for your request
Your request has been sent
to our Administrator.
We will contact you via email as soon as possible to proceed with your Transit Permit
With best personal wishes
The team of Paradiso Pure.Living
Thank you for your request / order
Your request / order was received.
We thank you for your interest in Paradiso Pure.Living!
With best personal wishes,
The team of Paradiso Pure.Living
Moretti Forno Neapolis 510°C
Our exceptional Oven
We use the world-famous Neapolis 510°C pizza oven created by the legendary Moretti Forni, which is known for being the most powerful electric oven. Together with unique recipes it gives birth to our conceptual Vegetarian pizza.
This exceptional oven has a cutting-edge design which respects the traditions of a true Italian pizza. The combination of the best materials and innovative solutions guarantees the highest quality of product on your table whilst respecting the environment and decreasing energy consumption.
The vintage style of our oven made of stainless steel with baking deck of Sorrento clay perfectly compliments our restaurant zone adding a magical charm to cozy Paradiso dinners and pleasing the eye and palate of our guests.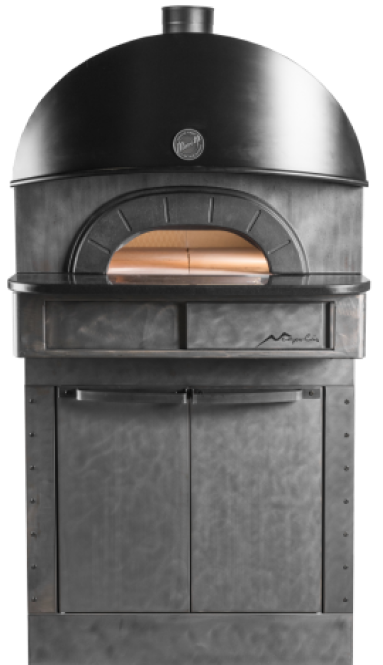 Return back
Our Pizzaiolo
Our Pizzaiolo
The creator of our Vegetarian pizza concept is the World Pizza Champion 2018 Roberto Meloni.
Roberto's masterpieces are made of special organic Italian flour and spring water from our high-altitude mountain source. His motto for Paradiso project is "Creativity to make the Difference". Roberto created the set of exceptional Vegetarian combinations for pizza in Paradiso that will amaze even the most demanding gourmet.
Roberto's roots are in Sardinia where he started his career and became a professional. You can feel the touch of this sunny island in the colours and flavours of our pizza. Roberto is a recognized member of the A.P.W pizza association which supported his professional growth. Currently, Roberto continues his career as the consultant and coach for young pizzaiolo in the Istituto di Formazione.
We thank Roberto for his input into Vegetarian pizza concept at Paradiso.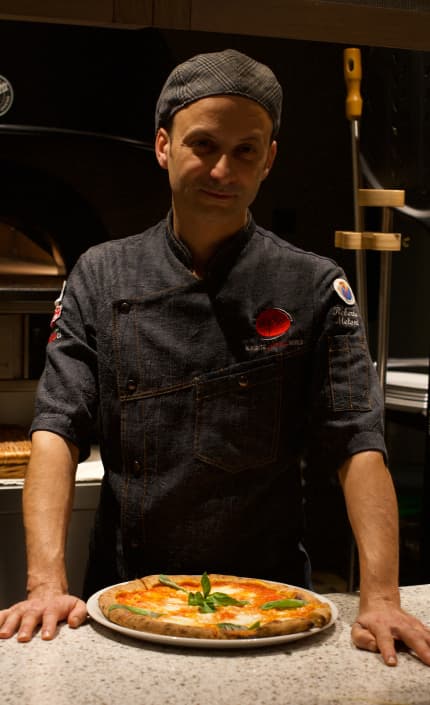 Return back
A la carte
Print
Return back
Pure.Wines
Print
Return back
Privacy & Cookies ENG
ENG version - Liability for Content
We make every effort to keep the information on our Web site current, but accept no liability whatsoever for the content provided. Pursuant to §7 par. 1 of TMG (German Tele-Media Act), the law limits our responsibility as a service provider to our own content on these Web pages. According to §§8 to 10 of TMG, we are not obligated to monitor third party information provided or stored on our Web site. However, we shall promptly remove any content upon becoming aware that it violates the law. Our liability in such an instance shall commence at the time we become aware of the respective violation.
Liability for Links
Our site contains links to third-party Web sites. We have no influence whatsoever on the information on these Web sites and accept no guaranty for its correctness. The content of such third-party sites is the responsibility of the respective owners/providers. At the time third-party Web sites were linked to ours, we found NO GROUNDS WHATSOEVER of any likely contravention of the law. We shall promptly delete a link upon becoming aware that it violates the law.
Copyrights
The content and works provided on these Web pages are governed by the copyright laws of Italy. Duplication, processing, distribution, or any form of commercialization of such material beyond the scope of the copyright law shall require the prior written consent of its respective author or creator.
Data Protection
Please be aware that there are inherent security risks in transmitting data, such as e-mails, via the Internet, because it is impossible to safeguard completely against unauthorized access by third parties. Nevertheless, we shall safeguard your data, subject to this limitation. In particular, personal information will be transmitted via the Internet only if it does not infringe upon third-party rights, unless the respective party has given its prior consent in view of such security risks. Accordingly, as the Web site provider, we shall not be held liable for any damages incurred as a consequence of such security risks or for any related acts of omission on our part. We oppose the use of any available contact information by a third party for sending unsolicited advertisements. As the Web site provider, we reserve the express right to take legal action against unsolicited mailing or e-mailing of spam and other similar advertising materials.
Disclaimer – Google Analytics
This website uses Google Analytics, a web analytics service provided by Google, Inc. ("Google"). Google Analytics uses "cookies", which are text files placed on your computer, to help the website analyze how users use the site. The information generated by the cookie about your use of the website (including your IP address) will be transmitted to and stored by Google on servers in the United States . Google will use this information for the purpose of evaluating your use of the website, compiling reports on website activity for website operators and providing other services relating to website activity and internet usage. Google may also transfer this information to third parties where required to do so by law, or where such third parties process the information on Google's behalf. Google will not associate your IP address with any other data held by Google. You may refuse the use of cookies by selecting the appropriate settings on your browser, however please note that if you do this you may not be able to use the full functionality of this website. By using this website, you consent to the processing of data about you by Google in the manner and for the purposes set out above."
Mandatory information according to the EU-Regulation N. 524/2013 of the European Parliament and of the Council: Platform for online dispute resolution for consumer disputes (ODR) to the European Commission: http://ec.europa.eu/consumers/odr/
Booking Rules and Cancellation Policy
Insurance & COVID Insurance


Due to the current uncertainty in the process of holiday planning we strongly suggest to book proper

Travel Insurance Coverage

.
European Assistance has changed their usual policy including COVID-19 in the range of covered events, despite pandemic status. Thus, you are also covered in case of a COVID infection and COVID related circumstance in your family.
Click this link to book your Insurance:

Insurance and COVID Insurance.

Detailed information related to COVID Insurance Cover you will find here: COVID Insurance Information.
Cancellation policy


Cancellation Policy for bookings made via email through our Administrator:

-Up to 14 days before scheduled arrival the Hotel will only retain the Deposit, no additional charge will occur.
-Within the last 14 days before your scheduled arrival date the Hotel will charge 75% of the whole amount of the reservation.
Price:
Standard price is set and calculated per person per night
Half-board is included (Vegetarian-Vegan menu)
Wellness area & Yoga are included
WiFi 07:00 - 23:00
Minimum stay
Winter season:
Minimum stay: 7 nights
Established package (arrival/departure): from Sunday to Sunday
Special dates/terms are scheduled separately for the Holiday season
Short stays are available under special terms. 1-2 nights booking is available with 15% surcharge in case of free rooms occur: please see Special Offers on the website or contact directly our front desk manager. 3-6 night booking is available without surcharge in case of free rooms occur: online - 1 week before arrival; offline - please contact directly our front desk manager for personal arrangements.
Summer season:
Minimum stay 3 nights, except of high season period (5 nights).
Short stays are available under special terms. 1-2 nights booking is available with 15% surcharge in case of free rooms occur.
Deposit
€ 300 deposit per room up to 1 week of stay is applied
Deposit can be paid: by credit card (Visa, Master Card) / or bank transfer. IBAN Paradiso SRL: IT08K0604558740000005000044.
Reservation is only valid after the required deposit payment is received.
Deposit is not refundable in case of cancellation
City tax
City tax will be applied and will be added upon check-out. Children under the age of 14 are tax exempt
Wished room guaranteed:
€ 90 surcharge per room and stay is applied for booking of an exactly identified room within the chosen room type
This amount will be charged at the Hotel upon check-out.
Returning guest discount
5% discount will be granted to our returning guests who stayed at least once at Paradiso prior to the 2019 transformation and decide to trust us again at Paradiso Pure.Living (direct bookings only).
The same discount is also applied to all future reservations made by returning guests within the new project.
This discount will be granted to the guest at the Hotel upon arrival/departure.
Extra person discount
20% discount is applied for the 3rd and 4th adult in double rooms where an additional sofa bed for one to two people is provided and the main two guests pay the full daily rate
Children discount rates
Children discount rates in double rooms are intended with 2 adults paying the full rate in the same room
Less than 1 y.o. - 100% discount. Baby crib available and free of charge (limited quantity, by pre-order)
1-2 y.o. - 75% discount
3-5 y.o. - 60% discount
6-11 y.o. - 50% discount
12-18 y.o. - 20% discount
Discounts
All the above discounts apply only to the cost of rooms and do not apply to services.
All the above discounts are not summing up, only the largest of possible discounts is applied in this case.
Pets
Stay with dogs and pets can only be booked through email: info@paradiso-pure.com

Accommodation for dogs/cats is provided in a specially equipped room with tile floor
€ 30 per day is applied. Food is not included in this rate
Pets are not allowed to access the American bar, the restaurant area with carpet floor and the wellness area
We recommend to provide insurance coverage for damages your pet may cause
If you have a different pet from dog or cat please check with the front desk before booking if we can meet your needs
If you arrive with your dog or pet, please book your stay exclusively through email info@paradiso-pure.com. Stay with dogs and pets can only be provided in specially adapted rooms. Our Administrator will send you a personalized offer

Non-smoking
Paradiso Pure.Living is a non-smoking establishment. We respectfully request that Hotel guests don´t smoke within any internal space at the premises and use the dedicated external smoking area provided next to the entrance
In the event that a guest smokes in a Hotel room Paradiso Pure.Living reserves the right to charge a € 400 (Deep Cleaning Fee to the occupant in order to cover the extensive cost of restoring guest rooms to a smoke-free condition)
Transfers
Transfers Compatsch<->Hotel can be arranged upon request for emergencies or specific needs
For a car extra transfer from/to Compatsch (one way) an extra cost is applied
Up to 60 € is applied for Snow Cat Extra Transfer from/to Compatsch (one way)
All Extra Transfers need to be scheduled in advance with the front desk
Attention! Website paradiso-pure.com uses cookies to adapt to your needs. If you continue using our services, we assume that you agree to our use of cookies. More information about cookies and how to reject them
read here
.